What is an Active School?
The Active School Flag (ASF) is awarded to schools that strive to achieve a physically educated and physically active school community. The process aims to get more schools, more active, more often.
Schools wishing to achieve the ASF begin the process by self-evaluating their current provision across 3 areas: Physical Education, Physical Activity and Partnerships. Schools must also organise an Active School Week programme and commit to having it as part of their annual school calendar. Schools that can say 'yes' to all of the ASF success criteria will be awarded with the active flag. The flag remains valid for a period of 3 years after which time schools will be invited to re-apply.
ASF is a Department of Education and Skills initiative supported by Healthy Ireland.
May 2021
This month we are participating in the Dare to Believe Olympic Challenge  Our three class teams will log their activity into the website to get us to Tokyo in time for the olympics!
Active schools challenges at home during lock down June 2020
Family Challenges during Lock down of Summer 2020
Active Learning in the outdoor class room Autumn 2020
Active Schools week 2019
February 2019
We are all delighted with how our running initiative is going.  Well done! We have seen a huge improvement in overall fitness levels.  We will continue to do 10 minutes of running and exercise daily.
We are currently focusing on the skill of jumping for distance.  In the Junior Room we watched clips of World Records in the Long Jump.  The children were amazed by how far these Athletes could jump.  We measured the distance in our classroom and the children compared the Long Jump Athletes to Superheros.  Great inspiration for our Athletes!
We are starting a new initative.  We want everyone in Curraglass to be able to skip.  This initative  is inspired by three of our students below.
Active Homework for the Senior Room
It is important that children get 60 minutes of exercise daily.  Children in the Senior room will track their Physical Activity using the chart below.
WELL DONE
Well done to Liam who successfully managed to do 50 doubles or double unders.  He worked hard to achieve this goal and we are very proud of him.
January 2019
LETS GET THE NEW YEAR OFF THE A GREAT START!
We are prioritising the Athletics strand this year in Curraglass National School.  We are delighted to hear that so many children and parents have joined the local Athletics club. Well done!  To focus on this strand and to coincide with Operation Transformation we will be running a km a day.  Already we can see a huge increase in the fitness levels of the children.
The Fundamental Movement skill of running is being focused on throughout the school for the next couple of weeks.  The children are making a big effort during there daily running with their technique.
September 2018
Tour of Europe Challenge  22nd – 30th September 2018
Sports Ireland and Active School Flag encourage schools to walk, jog or run to visit the landmark sights of Europe.  The children had great fun running to the Eiffel Tower and The leaning Tower of Pisa.
Monday 24th & Tuesday 25th September :  The children ran to the Eiffel Tower, Paris, France
Distance: 778km – 12 laps of the field
Wednesday 26th – Friday 28th September
The children ran to the Leaning Tower of Pisa, Pisa, Italy
Distance: 1621km – 25 laps of the field
Athletics:
This year we are focusing on the strand of Athletics for further development.  The focus is on developing some of the Functional Movement Skills associated with Athletics.   This will be done during our 10 @10 each week and during PE lessons.
The Functional Movement Skills are outlined below: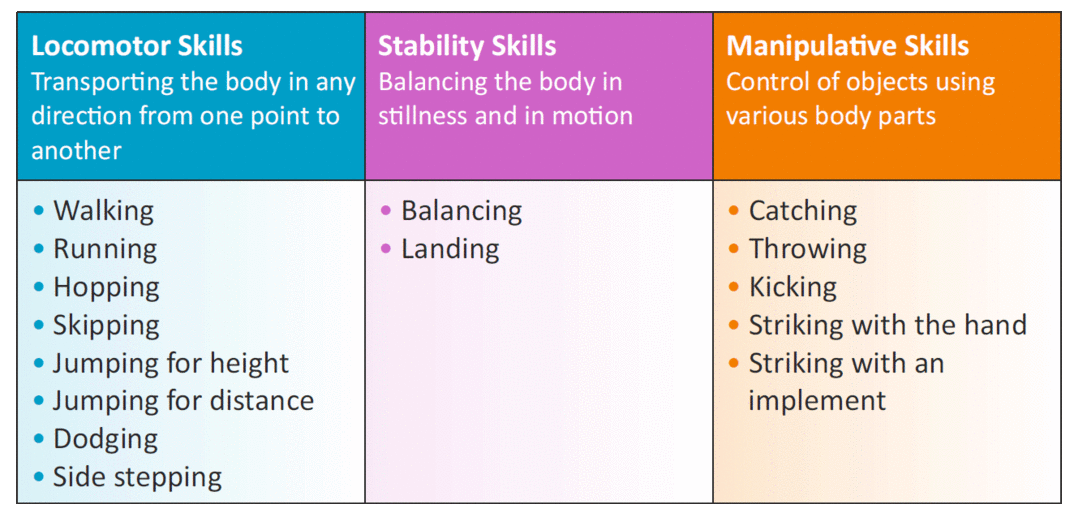 These Functional movement skills will help the children in all areas of the PE.
Facts about children's  Physical Activity.
Physical activity needs to be increased and sedentary behaiour decreased.
All children need at least 60 minutes of moderate to vigorous activity every day.
80% of children do not meet the reccommended time for daily physical activity.
Focus needs to be shown to the 80% of children who are not meeting to 60 minute guidelines of activity.
1 in 4 Irish children are overweight or obese.
What Curraglass National School will do to improve Children's Physical Activity.
Playground Leaders.
Drop everything and DANCE.
Drop everything and RUN.
Rainy Day active breaks.
Extra Curricular Activities.
Active School Tours.
Active School Week.
Whole School Fun Events.
Music on the Yard.
National Physical Activity events.
Playground equipment.
Active Travel.
Active rewards.
Numeracy and Literacy Trails.
Small Changes can make a big difference- Sit Less, Move More.
Active Children
Concentrate and learn better.
Present fewer discipline problems.
Achieve higher test results.
Enjoy school more.
What must Curraglass National School Do in order to achieve an Active Flag?
In terms of P.E. we must:
Provide each child with an hour of timetabled P.E. per week.
Teach at least five different P.E. strands every year- Dance, Gymnastics, Games, Athletics, Swimming, Outdoor and Adventure.
Prioritise a different P.E. strand for development each year.
Satisfy all of criteria for ASF for Physical Education.
In terms of general Activity we must:
Provide children with daily playground breaks.
Promote a full range of fundamental movement skills at break time including running.
Organise a non- competitive running activity that lasts a number of weeks.
Promote inclusive physical activity throughout the school.
Work in parnership with pupils, parents, local community and national agencies to promote a physical school culture.
Complete at least one Active schools week and have one annually.
Prioritise fun and inclusivity during Active School Week.
Involve pupils in the design and organisation of Active School Week.
Satisfy all of the criteria for ASF for Active School Week, Physical Activity and Partnerships.
Here are some of changes we have made to make our school more active so far
We have Active homework. We are using Super Troopers. Each night as part of the homework, each student has an active activity.
We have set up an Active School Committee.
We have an Active School Flag Notice board in the school where we display our active events and active news.
We have an active school suggestion box.
We have playground leaders
We have an achievement tree where we display our student's achievements.
We have replaced sweet treats active rewards-extra play time in the yard.
Children have access to a wide range of equipment.
We are currently taking part in a running initiative 10 @10
                                            Our Active School Committee 2018- 2019
To carry out our Active School application, we needed the help of our students. To facilitate this, we set up an 'Active Schools Committee'.
The members of the committee have leadership roles and are doing a great job encouraging our school to be active! 
                                                                   Active Flag Slogan
The children came up with lots of great slogans.
 Well done to Marie O Connor who came up with the winning slogan – Don't sit, get fit. 
  Active Homework
We have introduced Active homework. We are using Super Troopers. Each night as part of the homework, each student has an active activity.
10 a day!
Each day, every class will take in 10 a day. This is a physical exercise break where children focus on increasing their fitness and learning new skills.
Game of the Week
Each week we will introduce a different playground game. Leaders from the active school committee will teach the children in the younger classes how to play the game.  Instructions how to play the game will also be displayed on the Active Flag notice board.
Section 2: Physical Education
The P.E. Curriculum 
There are 6 strands in the P.E. curriculum:
Athletics
Dance
Games
Gymnastics
Outdoor and Adventure
Aquatics
5 out of the 6 strands are covered each year.
If you wish to take a look at the curriculum, it can be found on the NCCA website.
Physical Education is allocated 1 hour per week of overall teaching time. The school teaches PE as 2 x 30 minute classes as opposed to in a 1 hour block, thus allowing pupils to be active on two separate occasions during the week.
Section 3: Partnerships
Members of the Active School Committee carried out a survey – 'What club are you in?'.  They identified all the clubs that the children are involved with throughout the community.
The following are some of the sports and clubs that the children are involved with
Football, hurling, camogie & handball – St Catherine's GAA club
Swimming – Aura Youghal
Hip hop – JD steps
Soccer – Valley Rangers
Soccer – Shamrocks
Section 4: Active School Week
Active School Week
The Department of Education and Skills and Healthy Ireland encourage ALL schools to organise an Active School Week (ASW) as part of their annual school calendar. We are delighted to announce that we will be holding our first Active School Week starting the 28th of May. We will keep you posted with further information about the week so keep an eye on the website.